Discover our exquisite Ecuadorian preserved roses with beautiful metallic or pearl finishes.
These roses are the perfect touch for holidays like Christmas or New Year's Eve, adding a special charm to your celebrations.
Choose the finish you like the most, with the peace of mind of knowing that these roses are backed by the unmatched quality of the RoseAmor brand.
Make your festive occasions sparkle with the splendor of our unique roses!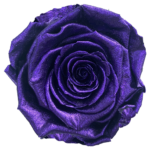 Would you like more information or to place an order?
Discover a magnificent gallery of floral arrangements created with our beautiful 100% natural and preserved flowers.