Discover the magic of our preserved Zebra roses, with their subtle outlining that enhances the beauty of their petals.
These exquisite roses will add a sublime and sophisticated touch to your creations, taking them to a higher level of elegance.
Like all of our products, our Zebra roses are backed by RoseAmor's unmatched quality.
Don't hesitate to ask about the wide variety of colors available to find the perfect combination to suit your desires and needs! Experience the unique essence of our Zebra roses and create unforgettable moments with these flowers that will last a lifetime.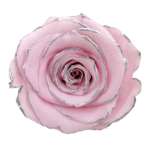 Want more information or place an order?
Discover a magnificent gallery of floral arrangements created with our beautiful 100% natural and preserved flowers.